Yes, 2015 was hard to beat.
I certainly didn't do that on the concert attendance front.
But I DID start broadcasting again, something I've sincerely missed.
Utilizing the categories from last year, here's what I enjoyed during my musical journeys in 2016:
Best Discoveries
I listened to a LOT of pop music this year. As a child, I didn't have a lot of musical diversity in my life. Lots of hymns and classical music. My continuing appreciation of pop music is perhaps an attempt to stay connected to the wonderment I had in my late teens and early twenties as I discovered so much.
Carly Rae Jepsen keeps pumping out catchy, well-crafted, body-movin' tracks. I particularly enjoyed this one during 2016:
This track by Bridgit Mendler was also a favourite:
On the flip side of pop tarts…
"Tenderness on the Block" is a song I first heard on Shawn Colvin's 1994 album Cover Girl. I've long considered Shawn a premier arbiter of cover songs. This particular song on this particular album fell flat on my ears. I think Shawn does an admirable job with her version, but I never really liked it all that much.
I don't remember what spurred me towards listening to the original. I'm also not sure I ever made the connection that Warren Zevon wrote it. My most significant recollection of Warren is him playing on the Letterman show during the final months of his life. Warren and Dave combined into something very poignant and moving. I miss them both terribly.
Maybe it's the piano part or the Jackson Browne harmonies in the original that makes me love it.
Best Covers
Kacey Musgraves and Buddy Miller provided my best covers pick this year. From the Cayamo Sessions At Sea – Buddy Miller and Friends album. This is LIVE folks:
If I Were Cooler…
I took a wonderful sidetrack into the electric blues this year. There is so much about this music that I don't know. A very rich and complex history.
I'd never heard of Freddy King until I found this song:
This song is a masterpiece. Produced by the great Leon Russell who was taken from us by the monster that will be forever known as 2016.
I also listened to many tracks from the Tedeschi Trucks Band. I love the vibe and culture that Susan and Derek are creating and fostering with their studio and production efforts. I hope to be able to support them by seeing them live as soon as I can.
Their NPR Small Desk Concert is a rough, brilliant gem: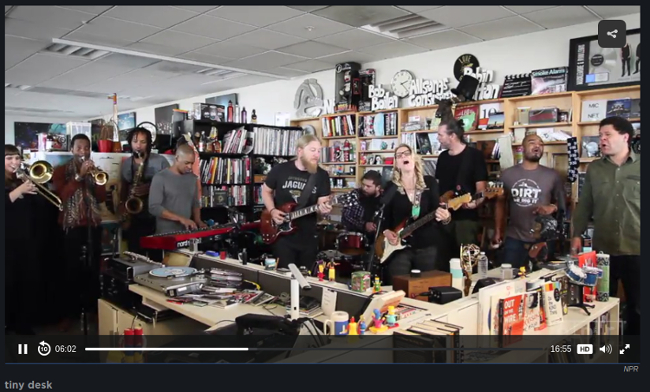 Best Concert Experience
In March of 2016 I got to realize a dream and see two AMAZING musical acts. The Suffers and Lake Street Dive played First Avenue in Minneapolis, MN. Some of my favorite musical acts (Low, The Replacements, Hüsker Dü) made their stars in this venue.
And Prince.
I was standing in line to enter and I found myself right next to his star on the outside of the building (it was still white then). I looked at it and considered that I should take a picture. But I didn't, the line moved, and then Prince died.
I'm probably about 15 feet to the right of where this video was shot. It was a great way to end a great concert.
Broadcasting
I started broadcasting again in 2016.
In the summer before my Junior year in high school, I started with an hour long newscast (Newton At Noon) on KBCU FM 88.1
It took me about 5 minutes to realize that I loved the medium and the capability of radio. It was one of the primary reasons I came back home to attend Bethel College and I did my best to continue the tradition of the station during my educational career there.
This year, I did my first streaming show. I'm not sure if this is "radio" or not, but I structured my shows this year in the same manner I've almost always done them. Loose, free; playing what I want when I want to. My initial shows were on Anonradio.net (I've linked to show archives). Now, I've built my own streaming audio server and broadcast HERE.
Sometimes it doesn't work, but I'm usually on live from 9pm Central for 1 hour.
I can't let 2016 be ANYTHING but pure Purple. Amazing, bicycle-loving, Epoch DEFINING, elemental; singular – Prince . prince
Sometimes it DOES snow in April;
May we all live peacefully,
to see another.