My father's father died when I was 6 years old. One of the few things I remember about him is his love for old gas engines and tractors. He loved to work on repairing them and displaying them at the Butterfield Threshing Bee .
One of his favorites tractors was one like the Rumely Oil-pull shown below: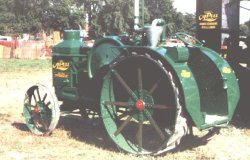 I remember sitting on my grandfather's lap as he drove this tractor in the parade at the Threshing Bee one year. My dad still owns it. Right now it is stored in a machine shed on the farmstead my grandfather and father owned.
My dad built a shed on his land in Pratt recently and we've talked about hauling the tractor down from Minnesota. I would really like to clean it up and get it running again.