…smoke there's fire.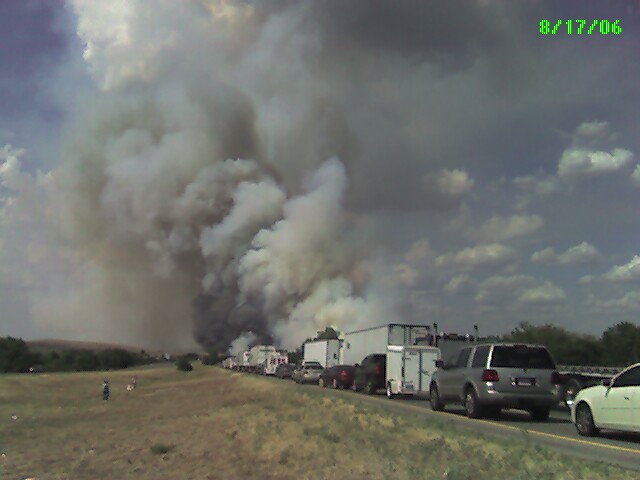 I had an interesting drive from Dallas to Wichita today. As I headed north on Interstate 35, I started seeing smoke on the horizon just north of the Texas / Oklahoma border. Just north of Thackerville, OK traffic was stopped in both lanes. I sat in almost exactly the same place for an hour. During the first 45 minutes, traffic continues to progress in the south-bound lanes. I could see flames in the distance and saw numerous firetrucks and assorted emergency vehicles headed past my location toward the source. There was also a considerable amount of aerial activity.
Then, the smoke plumes increased in size.
I got tired of sitting there (and I was running low on fuel) so I turned around and headed south. Fortunately, highway 77 intersected with I 35 just south of where I stopped. I jumped off of south-bound 35 and headed back north on 77 figuring it would either intersect back into 35 or at the very least run into a town where I could ask how to get back to the interstate.
Many other vehicles had followed the same path, but I'm fairly sure I was one of the last. I was on 77 for less than a mile before I saw flames very close to the side of the roadway. I've never seen a prairie / brush / tree fire close up. I was a little more concerned when I saw a group of firemen run across the road and passed three police cruisers heading south at a high rate of speed.
Then, I got into the heavy stuff. I considered stopping to snap a couple of quick pictures with my phone, but I'm glad I didn't. I rounded a bend in the highway and the flames were up to the shoulder. I was fortunate that the road quickly curved in the opposite direction.
I had less than a mile before I was clear of the fire and smoke on the north side. I took the pictures below from the north side looking south right at the junction of 77 with 35.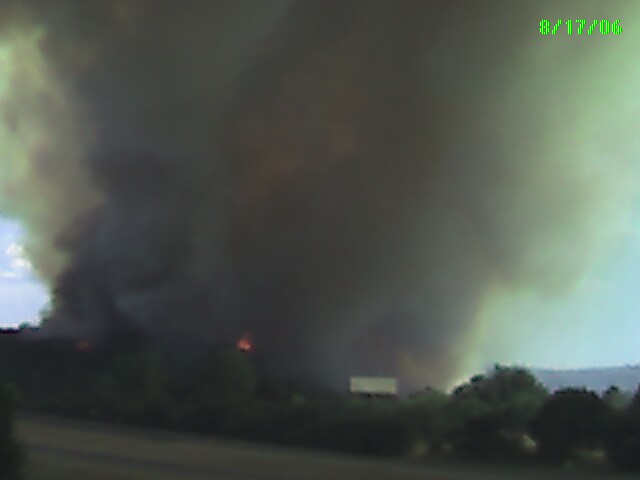 I got back on the Interstate and headed north towards OKC.