The vague creatures who paint pictures for my eyes
Carry me out over minors and
Bury my ears warm under the sonic sun
Best Discoveries
The first time I heard Chris Stapleton play and sing one of his songs I knew I will keep listening until I experience the loss of faculty to do so.  Mr. Stapleton had quite the prodigious year.  CMA awarded him "New Artist of the Year" and he garnered  a tanker's anchor of other trophies.  He even got to duet with Justin Timberlake.
Chris utilized his years of inside Nashville experience and output to achieve recognition from the music machines and maintain his uber credibility. Â To label him neauveau Outlaw is derivative to both the originals and Chris' fantastic lyric and tune crafts. Â I was fortunate enough to see him perform with Willie, Kris, Jamey Johnson, Shooter, and his talented wife Morgane this summer at: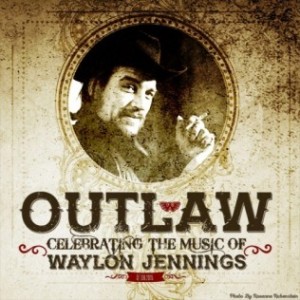 That concert in Austin is the best live event I've ever attended. Â It was another huge showcase for Chris and Morgane's talents. Â They can also enrapture from the other end of the performance spectrum. Â Example below (Whiskey And You is one of the best songs ever created):
Kacey Musgraves also played the Outlaw concert. Â I had heard of her before yet hadn't examined her music.
I tend to prefer voices with presence, Johnny Cash, Shawn Colvin, Aretha, Sarah Vaughn, Alison Krause… Â Kacey's voice is not large or unique.
She sure as hell was born to write and sing great songs.  My understanding is that Willie Nelson has, as he often does, helped to guide and support her artistic life.  Her album released this year "Pageant Material" is a great collection of songs that highlight her lyrical wit combined with a great ability to create memorable sonic hooks.  Even a standard kiss-off song like "Keep It To Yourself" from 2013's Same Trailer Different Park provides the point without malice.  And it contains the characterizations and interesting metered rhymes that make Kacey interesting.
My favourite of her output so far is "Family is Family". Â Damn fantastic country song:
I'm been making an effort to expand my funk horizons and the best thing I found this year was The Meters. Â They were originators on the New Orleans Funk scene in the 60s and 70s. Â Successful in their own right and providing backing foundation for the likes of Allen Toussaint and Dr. John.
Sissy Strut is the funky grove in my head all the time now:
My other favorite groove for the year is from a Colombian band – Bomba Estereo
Best Covers
I love a a cover song that makes me remember the greatness of the original song and amazes me by the interpretation. Â Here are my favourites I discovered in 2015:
Learnin' to Fly – The Weepies from Sirens (2015). Â This musical duo continues to imagine and perform some of the most beautiful music I've ever heard. Â The album they released this year is a great celebration of Deb's successful battle against breast cancer and how their entire family used music as bulwark, salve, and sustenance.
This cover was recorded on somewhat of a lark to fill extra studio time. Â I think it is perfect:
As much as a bald, fat, married, 41 year old father of four boys under 13 can swoon, THAT'S how much I love Ruth Moody.  Her work with The Wailin' Jennys and collaborations with artists like Mark Knopfler are beautiful.  Her cover of Springteen's Dancin' In The Dark is amazing.
I've long been intrigued by Roxy Music. Â As I learned about musical genre labels during my teenage years, they seemed to not be any of them and live inside of many of them at the same time. Â Lucy Kaplansky has been a longtime folk favorite of mine (along with Jonatha Brooke who provides the duet vocals). Â Her interpretation helped me to realize that this is a true love song that also breaks my heart.
I Used To Be A King – Shawn Colvin. Â Graham Nash wrote this song after his relationship with Joni Mitchell ended. Â My opinion is that Shawn is singing this to herself about her musical career. Â She is a tough, talented, powerful artist.
Might be my favorite Replacements song. Â JTE performs this cover like he lived it.
Crossing Muddy Waters -Â I'm With Her (Sarah Jarosz, Sara Watkins, Aoife O'Donovan)
Written by the legend John Hiatt, this cover captures and extends the heartbreak of the original. Â These three ladies combine their talents and I can't stop watching this video.
If I was still a young man…
Pop songs are a pleasure I will never deny myself. Â I rocked these on playlists throughout the year:
Cool For The Summer – Demi Levato
Empty Threat – CHVRCHES
I so love this Scottish band.
The House That Heaven Built – Japandroids
I wish I would've been at more concerts like this in college
Best Live Performance
I went to see Patty Griffith perform in Norman, OK at The Sooner Theater on November 14, 2015. Â The opening act was Darlingside with who's music I was entirely unfamiliar. Â I was really excited to see Patty again. Â She's a diminutive powerhouse and seeing her at Cain's Ballroom in Tulsa a couple of years ago was one of the best concerts I've ever attended.
Patty was at the end of a long US tour swing; it showed. Â Her band was in fine fettle and Patty gave all she had. Â Many I talked to after the concert shared my sentiment that she appeared tired. Â I can't imagine the road life of a performer and I look forward to seeing her next time.
The best part of the evening was the Darlingside.
When they first walked on stage my inner-cynic whispered, "Great. Â Another hipster acoustic, banjo quad yelling HEY! every six bars."
I've never been happier to realize the stupidity of my inner-cynic.
These four gentlemen are some of the best live performers I've ever seen. Â They ruled the single microphone setup. Â The vocals were washed in the warmth of The Byrds and the exuberance of The Beach Boys. Â I particularly appreciated the mix of electric and acoustic instruments. Â And, I'm also a sucker for incorporating a carbon-fiber cello.
They engaged our audience through music and conversation in a way that I have seldom seen. Â I wish them all the success they desire.
Best Concert Experience
July 6 – Moody Theater in Austin TX. Â Outlaw: Celebrating the Music of Waylon Jennings
One thing I proved this summer is that I take REALLY bad concert pictures with my cell phone.
For instance, here's Kris Kristofferson: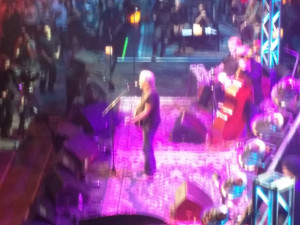 And here's a whole passel of my music idols – including: Willie, Buddy Miller, Kristofferson, etc: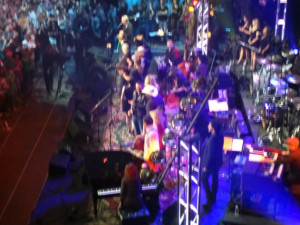 Anyway.
Thanks to my father, I was able to attend this once in a lifetime concert event. Â And even though I had to suffer through Toby Keith bullshit, I'll never forget it. Â The lineup was epic, the performances were brilliant; the company was the best I could ever hope for.
I also got to experience what may be the coolest music store ever: South Austin Music
Bill Welker is a hell of a man and I hope someday to be able to return the hospitality he extended to my father and me.
Cheers to 2016
2015 will be hard to top for me.
May your playlists be diverse and incredible. Â And please share them with me.