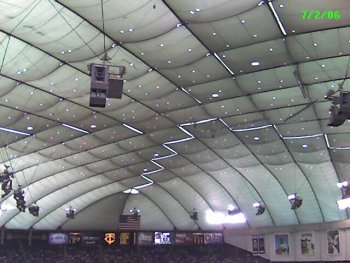 On my trip to Minnesota this past weekend, I was fortunate to see a Twins game in the HHH Metrodome. It was my father's idea and we had a great time.
The visiting Brewers had no chance against the red hot Twins. Francisco Liriano struck out 12 in 8 full innings of a three-hit shutout. A beautiful pitching performance. I hope that the Twins can hang onto Liriano. He's only 22 and shows tremendous poise and concentration. The long term tandem of Liriano and Santana would keep the Twins at the top of the pitching ranks.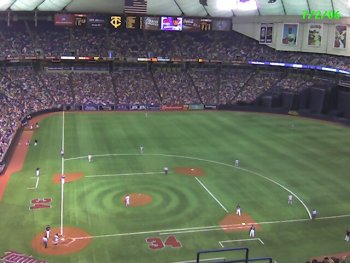 The Twins also played solid fundamental baseball and gave Liriano an 8 spot of run support. By the time Morneau hit his solo home run the Twins had the game well in hand. They are a good team. They play largely independent of a reliance on home runs and support a solid pitching rotation with good defense.
An 11 game win streak got snapped by the bottom-dwelling Royals last night. And, the Tigers and White Sox keep winning at about the same pace. I would have never thought that the AL Central would be the strongest division this year.