No more coffee from The Anchor. Ever.
BungoJungo readers should be familiar with my failures to procure a decent cup of coffee in the morning.
On a fine, crisp spring morning such as this I thought that some freshly brewed espresso swimming in chocolate and steamed whole milk would be tasty and delicious. I suppose it would have been if I could have found one. I'm beginning to think that it's a mythical substance; doesn't really exist.
I swung by The Anchor on Douglas again this morning. It seemed a little more active than usual as it was not just me waiting on coffee. It looked like they were completely replacing the keg lines underneath the bar, so there were several workmen in addition to barista dude. There was also another person waiting for coffee. I didn't have the heart to ask him how his tasted because he was actually drinking it at the bar in a glass mug.
Maybe barista dude was distracted by all the activity. I think he either has ADD or a festering hatred against decent coffee. I actually paid attention to him while he was making my coffee and now I know why it tastes like brackish boiling water poured over rancid hay stalks.
He didn't change the grounds. He made the coffee for the guy ahead of me and then ran water over the same grounds to make my mocha.
Here is a picture of my punch card from The Anchor:
Here is a picture of me shredding my punch card from The Anchor: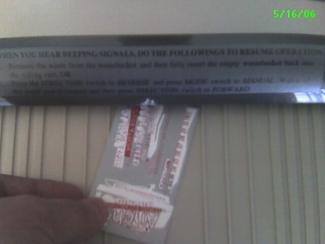 I'd still go there for beers. It seems like a nice atmosphere and they have a good selection.
But no more coffee.