A great confluence of ideas arrived to me this morning.
I'm going to use:
To get a: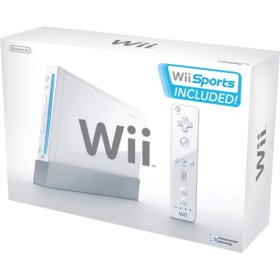 My wonderfully fiscally responsible wife has deemed the expenditure necessary to procure a Wii for Christmas unreasonable. And I tend to agree with her. However, I've played a few games on the Wii now and am definitely intrigued.
So, my quest is to use Mturk to make enough scratch to buy a Wii.
Here's the background:
"Amazon Mechanical Turk provides a web services API for computers to integrate "artificial artificial intelligence" directly into their processing by making requests of humans." – from the FAQ for Amazon Mechanical Turk .
Basically, Mturk provides a way for humans to process certain types of data that technology is not yet capable of processing. Most often, the amount of money you earn doing Mturk tasks is related to the type of tasks performed, the accuracy with which they are performed, and the amount of valuable data collected.
So far, in approximately one month, I have accumulated $17. The LIST price for the Nintendo Wii is $249.95 At this pace, I will have enough money to purchase a Wii in 72,378 days. At least I won't have to wait in line to buy one by the time I've Mturk'ed enough cash.