So this is where I start having actual recollections….
Menachem Begin was born in 1913 at the geopolitical crux of Poland and Russia. Early Zionist stints in various Eastern European locales.  Caught in Stalin's net in 1940.  Released and self-inscripted to the Free Polish Army to train in Palestine in 1943.  Led uprisings against Britain, guerrilla bombings, establishing Israeli state. Begin's political foundings also make him the grandfather of Likud.
Best known for the Camp David Peace Accords.  Begin won the Nobel Peace Prize in 1978 (shared with Anwar Sadat).  By 1981, Sadat was dead and Menachem was bombing the shit out of Iraq under the pretense of "nuclear containment".  WMD anyone?
The US President in 1981 was this: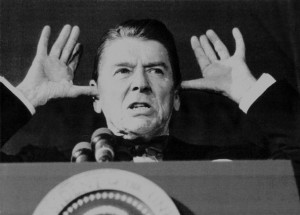 I vaguely remember Carter as president. Â My first political awareness is of Bonzo's best friend. Â I think Ronnie is best addressed in listicle form:
Things Ronnie was:
Actor
Effective communicator
Warmonger
Liar
Destroyer of middle class
Neo-con Kennedy
Things Ronnie was not:
Effective
Just
Peaceful
Al Haig
And "trickle-down" economics is nothing more than oligarchs pissing on everyone else. Â See: Current state of affairs in Kansas aka Kochtopia aka Brownbeckistan
At this point in my life I honestly don't know what to think about Palestine. Â I don't believe any side will be successful in violence. Â Would a Northern Ireland type solution work?