I remember it because it has a cedar tree on it. And the second thing I contemplate about Lebanon is this promontory proboscis: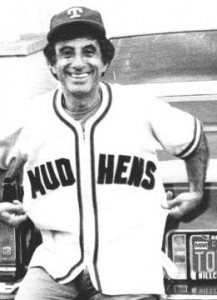 When I was a kid, the Toledo Mudhens were the Triple A affiliate for the Minnesota Twins.
Charles de Gaulle is an airport and a brain in a jar. And I'm passing him quickly to get back to baseball.
The era of California Baseball starts in 1958 on the major league level. The Giants move from New York to San Francisco and the Dodgers abandon Brooklyn for the less bum-infested Chavez Ravine. Although Chavez Ravine is in Sulfur Canyon and therefore probably smells a lot like bums. Two points to make here:
1. I am obsessed with Ebbets Field
2. Vincent Edward Scully is still calling Dodger games.
Seriously folks, hear him call a game while you still can. He IS a tie that binds back to multiple eras of baseball. I'm out of superlatives so I'm switching to analogies. Imagine being able to listen live to a performance by Liszt, or Chopin. Or having to move your beer to avoid a Carrie Nation hatchet blow. Do it.