Davy "King of the Wild Frontier" Crockett left for Texas when Martin Van Buren was elected president. He is currently buried in the basement of The Alamo along with a really cool bike (that is NOT FOR SALE FRANCIS).
He's also famous for wearing a dead animal on his head. He's basically Donald Trump from the early 19th century.
I once saw a rabid raccoon at the following location: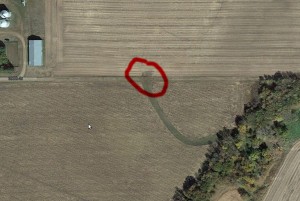 Except there was a bunch of snow on the ground. We were going sledding by the ravine. I don't remember for sure who was with me. I think my sister Lisa was there and one of our dogs. I was worried about the dog getting rabies.
Peter Pan is the "boy who wouldn't grow up". The character was created (formalized? I mean, the archetype has been around forever right? Did some Scottish poet really create him? Will this parenthetical ever end?) by J.M. Barrie.
The Llewelyn Davies boys are usually cited as the inspiration for Peter Pan and the other Lost Boys. The new Coen Brothers movie is "Inside Llewyn Davis" but it's about a folk singer and according to NPR based on Dave Von Ronk.