South Pacific has one of my favorite character names ever: Stewpot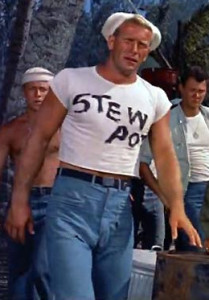 The "singing voice" of Stewpot in the 1958 movie version of South Pacific was performed by one of my favorite voice actors –
Thurl Ravenscroft
. Besides having an amazing name himself, Thurl was also the original voice of Tony the Tiger AND sang (uncredited) "You're A Mean One, Mr. Grinch".
South Pacific arose from the James Michener book: Tales of the South Pacific which gets run through the golden wheelhouse of classic Rodgers and Hammerstein. Further mixing the pot, here's a video of Mandy Patinkin singing a medley of careful songs:
Walter Winchell, contrary to my initial belief, did not found a donut dynasty. He was a self professed "son of a bitch" and effectively serves as cautionary tale for the likes of Perez Hilton. There's a whole pile of media, ethics, and basic human decency deficiencies in his story. Anyone who thinks that media people and politicians are worse now then they've ever been should be directed to read his Wikipedia page. One of the saddest things I've read in a long time is that his daughter was the only person at his funeral.
Joe DiMaggio was one of the greatest baseball players ever. Mr. Coffee pitchman, one of Marilyn Monroe's husbands. And, unfortunately he played for the New York Yankees.
Here's a interesting historical fact about his parents. According to the Wikipedia page: "Giuseppe and Rosalia DiMaggio were among the thousands of German, Japanese and Italian immigrants classified as "enemy aliens" by the government after Pearl Harbor was bombed by Japan. They carried photo ID booklets at all times, and were not allowed to travel outside a five-mile radius from their home without a permit. Giuseppe was barred from the San Francisco Bay, where he had fished for decades, and his boat was seized." Way to go America!